Episode 6: Antiviral herbal medicines vs. Ebola and other viral pandemics
by the Health Ranger Mike Adams

Pandemic Preparedness FREE Online How-To Course
Episode 6: Antiviral herbal medicines vs. Ebola and oth...
00:00 | 00:00

Right-Click the "MP3" button to download this chapter to your computer.
Safety precautions: everything mentioned here is unproven vs. Ebola
Nothing on the planet is proven to treat Ebola
Humanity has a long history of using these herbs which have potent antiviral properties
Pioneering Chinese doctors developed antiviral medicines thousands of years ago that helped stop plagues from spreading
Be cautious if you are pregnant; many herbs are contraindicated with pregnancy
Always work with a qualified naturopath or herbalist
Be cautious of overdosing, allergies or combining herbs with toxic pharmaceuticals
Prescription drugs may interfere with antiviral herbs
Detailed discussions of Echinacea, Black Elderberry, Licorice, Cinnamon, Ginger, Una de Gato, Comfrey, Lemon Balm, Oregano and many more
Beware of counterfeit herbal products sold online
"Layer up" with antiviral plant medicines
Make your own antiviral teas or liquid decoctions
Beware of buying herbs from China, many are contaminated with fillers or toxic heavy metals
Some antiviral herbs can be eaten every day as part of your routine diet; this is an excellent way to really strengthen your immune system over time
Food and recipe ideas for eating more antivirals every day
Using steam to inhale vapors of many different essential oils at safe levels
Many amazing antiviral medicines come from tree bark
Making gargles and mouthwashes with herbs for oral and sinus protection
Creating layers of herbal defenses for aggregate protection against infectious agents
Why growing your own herbs is the most potent medicine of all
Learn how to make ointments, teas, decoctions, extracts, etc.
Yarrow as a potentially miraculous lifesaving herb to stop bleeding
A quick review of essential oils: sources and lab tests
Traditional Chinese Medicine solutions discussed and detailed
An amazing herbal combination that can treat acute viral pandemics through rehydration and "cooling" hot blood
"Blood heat" formula: Xi Jiao Di Huang Tang
TCM ingredients: Sheng Di Huang, Xi Jiao, Chi Shao, Mu Dan Pi, Shui Niu Jiao, Xuan Shen, Da Qing Ye, Zi Cao
Chinese Medicine can save millions of lives in a global pandemic, especially if western medicine fails
Western medicine is monopolistic and entirely intolerant. Dogmatic pushers of vaccines and drugs have zero openness to any other system of medicine
Most citizens of the world use plant-based medicine, not pharmaceutical medicine
People who are foolish enough to believe solely in western medicine may pay for their delusions with their lives
Survivors will be people who are open to the full spectrum of available treatments and cures for viral pandemics
The truth about the anti-viral potential of natural medicinal herbs cannot be suppressed forever
Dogma is deadly: The arrogance of western medicine will get a lot of people killed
Things you can start doing RIGHT NOW to boost your immune defenses against viral pandemics
Find ways to expand your intake of spices, herbs and teas
Middle Eastern cuisine is loaded with antiviral herbs and spices
Don't forget the basics: Vitamin D and zinc
Most people have horrible immune function because they live immunosuppressive lifestyles
With proper defenses, a person can be exposed to Ebola and still not "catch" it (i.e. not become symptomatic)
Everything you've learned in this episode can help improve the quality of your life even if there is no pandemic at all
Armed with the right knowledge, you can be safe and well-protected
Learn more from the Health Ranger at www.NaturalNews.com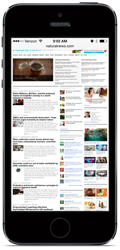 Natural News is now on Diaspora!
Related Articles
Recommended Alternative Media Websites: